Overview and Basic Information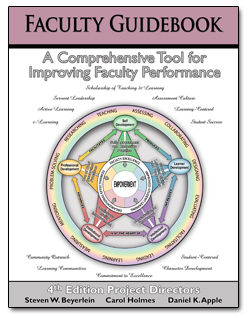 Education is a journey of discovery for both the learner and the teacher. There can be a lot of twists and turns along the way. And sometimes itís not too clear if youíre even headed in the right direction.
More than 45 different authors stand ready to assist you by sharing their research on the very best practices to improve both teaching and learning in the fourth edition of the Faculty Guidebook. This invaluable resource will keep you on abreast of the latest research and scholarly thinking on such topics as mentoring, assessment and evaluation, instructional design, program assessment, and creating quality learning environments. These topics are packaged in short, comprehensive two to four page modules, making it easy to quickly absorb, research, apply, and disseminate new teaching/learning knowledge and classroom innovations.
The Faculty Guidebook will enhance your understanding of the various contexts of education and development: professional, learner, intellectual, institutional, and self development, serving as an authoritative resource that fosters transformation in these five areas.
The fourth edition of the Faculty Guidebook contains one hundred forty-six modules, blending theory and practice in an easy-to-use format. But as valuable as these modules are, the true value of the Faculty Guidebook goes far beyond what is contained between its covers. We are justifiably proud of the scholarship it contains, but also excited by the promise of the Faculty Guidebook. As you use this handbook to help with your professional development, your growth will have a powerful impact on your colleagues, your students, and those you mentor. Imagine this kind of transformation on an institutional scaleóthis is the promise of the Faculty Guidebook.
Single copy, personal, or site license purchases make it easy to start on the path to professional development.